AI Centre's major online event welcomed key experts to shed light on future of AI and healthcare
AI Centre's major online event welcomed key experts to shed light on future of AI and healthcare
Topic: Event

Launching AI Platforms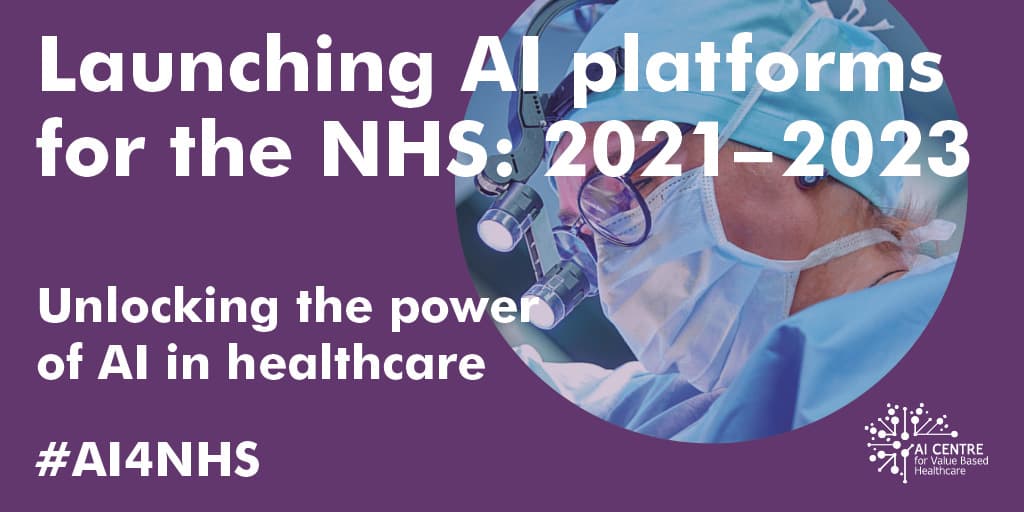 This March, the London Medical Imaging & AI Centre for Value-Based Healthcare held an online event, Launching AI platforms for the NHS: 2021-2023. Featuring keynote speakers and expert panelists exploring topics including wide-scale deployment of AI in hospitals and building an AI-ready NHS workforce, it was attended by an audience of over 650.
You can now view the event recording and highlights or download the post-event report.
The event brought together experts from healthcare, technology, and research to focus on the key challenges, opportunities and implications deploying AI platforms has for the NHS. 
The Centre welcomed keynote speakers Lord David Prior, Chair of NHS England, who spoke of the importance of the NHS embracing technological advances through AI to evolve with a changing population's health needs and Dr Indra Joshi, Director of AI at NHSX, who took the audiences through the objectives and activities of the NHSX Labs. 
Professor Reza Razavi, Director of the AI Centre, outlined the Centre's mission. "The Centre is focusing not only on high-quality care, but also on a value-based healthcare proposition for patients who do care about cost-efficient precision medicine and of course for the NHS to make sure that our tax pounds go further, and also for the UK to allow economic growth." 
Professor Razavi said the AI Centre is doing this in multiple ways - from automating reporting, to looking at the patient pathway and considering a re-design which prioritises diagnostics and guides personalised treatment, thus reducing costs that are not contributing to patient value.
Two panels followed, the first Building an AI ready workforce: upskilling NHS staff for AI chaired by Dr Nadine Hachach-Haram, Clinical Innovation Lead at Guy's & St Thomas' NHS Foundation Trust. The panelists focused on the practical aspects for integrating AI into the NHS, particularly in terms of equipping staff – the key users – with the tools, resources and knowledge to ensure optimal outcomes. The panelists set the scene, discussed challenges and opportunities, and looked to solutions for the future, channeling those back to actionable steps.
Key points: 
In the future, everyone working in healthcare will need to have a grasp of AI
The prevalence of hybrid roles is crucial
Training will be provided by many – NHS Trusts, colleges, universities, and the commercial sector 
Multi-disciplinarity will be critical within organisations, meaning apart from data scientists, other teams will need to come on board to oversee implementation, maintenance, use, and monitoring
In the same way that clinicians have been trained to become IT proficient, in the future all will have to have a degree of AI understanding, if not of the technology itself, of the overall framework and how they work.
Dr Jorge Cardoso, Chief Technology Officer, AI Centre, Senior Lecturer in Artificial Medical Intelligence, King's College London
The second panel Deploying AI in a clinical setting: opportunities and challenges, chaired by Professor Nicholas Ayache, Scientific Director 3IA Côte d'Azur & Inria focused on the opportunities, challenges and practical implications of deploying AI-driven healthcare in a clinical setting. It considered the operational, clinical, and technical aspects from the perspectives of key stakeholders involved in the development, adoption, deployment, use and monitoring processes.
"There is no doubt that if we look at other environments, we're going to have a huge amount of benefit from AI in terms of removing those repetitive tasks and allowing us to think about improving resource management -- better deployment of our technologists, our nurses, our radiologists for key tasks that can't be automated." - Professor Vicky Goh, Professor of Cancer Imaging, King's College London & Honorary Consultant Radiologist, Guy's & St Thomas' Hospital, London
Key points: 
Development of tools that are accessible and affordable by all is imperative
Tools like the Federated Learning and Interoperability Platform (FLIP) can address issues relating to data privacy and security
Further developing computer infrastructure is underway
Technology evaluation is key
Haris Shuaib, AI Transformation Lead at the AI Centre, and Topol Fellow, presented on the AI Deployment Engine (AIDE), an intelligent tool that allows healthcare providers to deploy AI models safely, effectively and efficiently by enabling the integration of AI models into clinical workflows.
Following Haris Shuaib was Dr Jorge Cardoso, Chief Technology at the AI Centre presenting on the Federated Learning Interoperability Platform (FLIP), designed to help link data from multiple NHS Trusts to enable AI at scale safely and securely. 
Beverley Bryant, Chief Digital Information Officer, Guy's and St Thomas' and King's College Hospital NHS Foundation Trusts and Senior Responsible Owner for the AI Centre, who presented the closing address, said the AI Centre's programme is an exciting and leading-edge example of how technology and healthcare can come together to truly transform healthcare delivery.