AI-powered 3D anatomical models help surgeons tackle the post-lockdown backlog
AI-powered 3D anatomical models help surgeons tackle the post-lockdown backlog
Topic: Research

After many surgeries were delayed due to COVID-19, assistive AI technologies are helping surgeons perform safe and effective procedures to overcome the backlog of patients.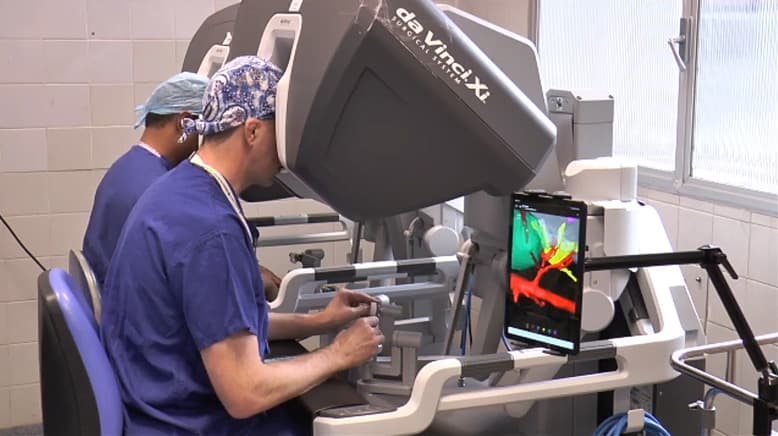 Innersight Labs, an industry partner of the London Medical Imaging & Artificial Intelligence Centre for Value Based Healthcare, is sharing its AI powered modelling technology, Innersight3D, to help guide surgeons through complex operations and deal with the backlog of cases delayed due to the COVID-19 crisis.
Innersight3D is an AI powered surgery planning software tool that creates interactive 3D anatomy models from existing CT and MRI scans. The models help surgeons to gain a complete picture of the patient's anatomy before surgery and allows them to perform safer, high-precision procedures with reduced risk of complications.
Surgeons are using Innersight3D to tackle the urgent backlog of cancer surgeries after COVID-19 significantly reduced capacity to continue routine hospital operations, and vulnerable patients were shielded from attending sites that were tackling the virus.
"The current crisis has delayed some cancer surgeries for three months now, which is a serious and significant delay given some tumours can double in size during that time period," said Dr Eoin Hyde, CEO of Innersight Labs.
What would have been straightforward operations three months ago have now advanced into complex cases requiring high precision surgery. Innersight3D helps surgical teams make informed choices that ensure the best outcome for the patient.
Dr Eoin Hyde, CEO of Innersight Labs
Up to 34% of abdominal cancer surgeries have major complications, which are potentially life threatening to patients and cost the NHS around £310 million each year.
Recent research predicts that delays in cancer treatment and diagnosis due to COVID-19 could result in up to 36,000 preventable deaths, making it ever pressing to resume services and give patients the treatment they need.
Surgeons at Royal Free Hospital recently resumed surgical services for kidney cancer patients, and are using Innersight3D to guide them during these now complicated operations.
"Innersight's interactive technology increased my confidence of knowing exactly where the tumour was so I could work quickly and accurately to remove it," said Mr Ravi Barod, Consultant Urological Surgeon at the Specialist Centre for Kidney Cancer, at the Royal Free Hospital.
"The tool is helping my team plan surgery better and avoid complications, which means we can work through the backlog quickly and safely."
Innersight3D removes the guesswork surgeons sometimes face navigating complex vascular systems, and can also provide patients with a better understanding of their health, allowing them to visualise exactly how the tumour is impacting them.
While the software is used extensively in kidney surgeries, this month it was used for the first time to aid a complex lung cancer surgery at Antony Private Hospital in Paris.
This surgery was so complex that most teams would have performed a full lung removal, but using the information from the 3D model, we were able to remove both tumours in the concerned lung segments of each left lobe and preserve the remaining healthy lung tissue to give the patient a much better quality of life with oncologic gold standard of care.
Dr Marion Durand, Consultant Cardiothoracic Surgeon, Antony Private Hospital, Ramsay Santé, Paris, France
The AI Centre at King's is working with Innersight Labs to further develop and test the feasibility of Innersight3D in both kidney and lung surgeries in collaboration with Guy's and St Thomas' NHS Foundation Trust surgeons such as Mr Ben Challacombe, Mr Prokar Dasgupta, and Mr Andrea Billè.
Drawing on its extensive AI technology infrastructure and access to imaging records, the AI Centre project will help improve the accuracy and reliability of the AI algorithm the software uses to create 3D anatomy models.
"This is a perfect example of how AI technologies can be integrated into clinical workflows quickly and easily, and significantly improve surgeon performance. Our work with the AI Centre will help us test and refine the tool so more surgeons and ultimately patients can benefit from its adoption," said Mr Ben Challacombe, Consultant Urological Surgeon at Guy's and St Thomas'.
The project is one of several areas of work led by the AI Centre that demonstrate how AI can be used to improve clinical pathways and deliver value for the NHS.