AIDE Go LIVE
AIDE Go LIVE
Topic: Platforms

AIDE - User Interface with KCH Stroke Algorithm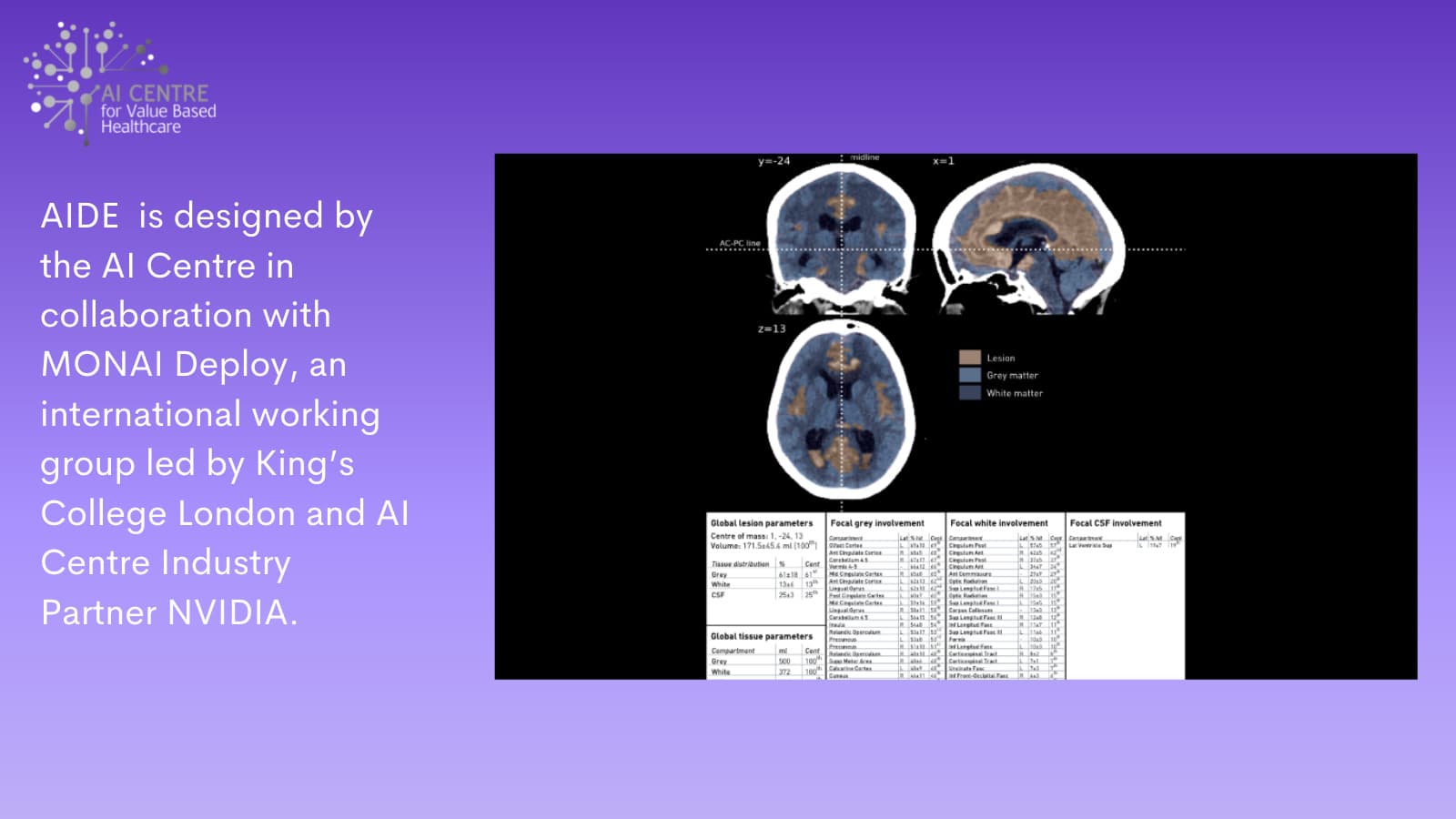 The London Medical Imaging & AI Centre for Value Based Healthcare, has launched AIDE (AI Deployment Engine) at its first NHS Trust, supported by AI Centre technology partner, Answer Digital.
Following its official launch in 2019, the AI Centre was established as part of the UK Government's Industrial Strategy Challenge Fund. The first solution, AIDE, has gone live at King's College Hospital NHS Foundation Trust, and will now be rolled out to nine further Trusts by 2023.
James Teo, Professor of Neurology at KCH, is the first clinician to be using AIDE. James Teo said: "I am delighted to be the first user of the AI Centre's solution and will be building on the success and sharing the capabilities of artificial intelligence with my colleagues across London to improve the lives of our population. AI will hugely support our work and help us personalise care and treatment of patients through providing richer information about the individual and their illness.
AIDE increases the potential impact of AI exponentially, by creating a single interface for the deployment of many different AI tools, directly to NHS frontline services. The AI Centre is focused on developing artificial intelligence (AI) algorithms from patient data to provide tools to speed up and improve diagnosis and care. While King's College Hospital has elected to initially deploy a stroke AI tool to support NHS clinicians and improve direct patient care, the AI Centre is developing further algorithms to support pathways such as dementia, heart failure and cancer.
Haris Shuaib, Head of Clinical Scientific Computing and Consultant Physicist at Guy's and St Thomas' NHS Foundation Trust, explained: "AIDE is a clinical system that supports the deployment of multiple AI models into a hospital and integrates them with existing clinical workflow. This lowers the cost and effort to deliver cutting-edge med tech to the frontline, to improve patient outcomes and healthcare operations.
Led by King's College London and Guy's & St Thomas' NHS Foundation Trust, the AI Centre consortium has over 30 partners including 10 NHS Trusts, 4 universities and a host of innovative spinouts, SMEs and multi-nationals. AIDE is designed by the AI Centre in collaboration with MONAI Deploy, an international working group led by King's College London and AI Centre Industry Partner NVIDIA.
Beverley Bryant, Chief Digital Information Officer at Guy's and St Thomas' and King's College Hospital NHS Foundation Trusts, and SRO for the AI Centre commented: "We are delighted at the research and input from our consortium members. Working with a technology partner has expedited the launch of AIDE. This is just the beginning as we support the transformation of clinical diagnosis and treatments to be shared across the NHS and exported internationally
Professor Seb Ourselin, AI Centre Deputy Director concluded: "This is a critical milestone into our journey to enable safe and robust deployment of AI innovations into the clinic. This could only be achieved through a strong partnership between the academic and industry sectors with the NHS. We are looking forward to scale up our platform across our 10 NHS Trust partners and beyond.