Helping to build the UK's most powerful supercomputer for AI in healthcare
Helping to build the UK's most powerful supercomputer for AI in healthcare
Topic: Platforms

Cambridge-1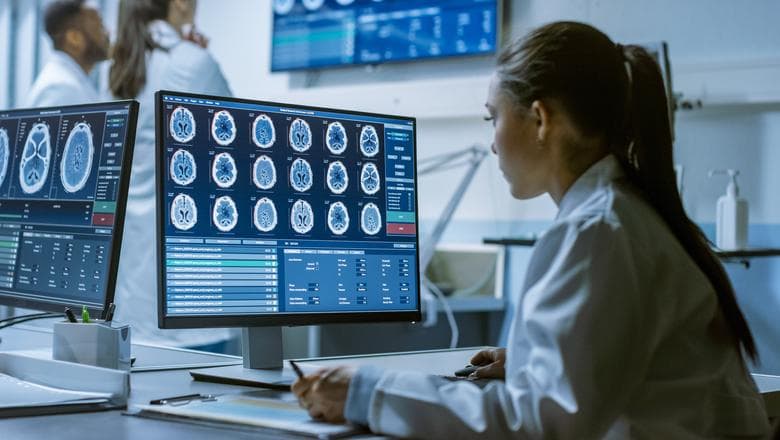 King's College London and Guy's and St Thomas' NHS Foundation Trust have been announced as founding partners of NVIDIA's Cambridge-1, UK's most powerful supercomputer dedicated to healthcare and life sciences research.
NVIDIA, a key partner of the London Medical Imaging & AI Centre for Value Based Healthcare, announced today that it is building the UK's most powerful supercomputer, Cambridge-1, for healthcare researchers using artificial intelligence to solve some of the world's most pressing medical challenges.
Cambridge-1 will focus on joint research to solve large-scale healthcare and data-science problems, resulting in improved patient outcomes while increasing hospital efficiency and the value of care.
Professor Sebastien Ourselin, AI Centre Deputy Director and Head of School at King's School of Biomedical Engineering & Imaging Sciences said: "Recent advances in AI have seen increasingly powerful models being used for complex tasks such as image recognition and natural language understanding. These models have achieved previously unimaginable performance by using an unprecedented scale of computational power, amassing millions of GPU hours per model."
Through this partnership, for the first time, such a scale of computational power will be available to healthcare research – it will be truly transformational for patient health and treatment pathways.
Professor Sebastien Ourselin
AI development requires significant computational resources. The power of the Cambridge-1 will speed up development, resulting in better AI which will reduce diagnosis times, such as for breast cancer screening, better prioritise and triage patients, particularly helping address the backlog caused by COVID-19.
Stronger AI can also lead to improved identification of the interventions that would result in the best outcome for patients.
Hospital operations will also be enhanced as AI can predict how many patients are likely to be admitted every day, ensuring that clinical resources are available.
More robust algorithms will better inform clinicians' decisions with new images and measurements, better quality data and a much more comprehensive view of the patient.
Jensen Huang, founder and CEO of NVIDIA, said: "The Cambridge-1 supercomputer will serve as a hub of innovation for the UK, enabling the nation's outstanding researchers to do work that can affect the lives of millions."
King's AI Centre is already utilising NVIDIA DGX technologies as part of their federated learning, data interoperability and AI deployment platforms.
Dr Jorge Cardoso, AI Centre CTO said: "The vision of value-based healthcare, which focuses on patient outcomes, requires a holistic view of different clinical pathways, wide access to data and evidence, and advanced AI algorithms that enable the personalisation of care. If we are to deliver on this vision, the robustness, resilience, safety and fairness of AI systems are of utmost importance."
Access to the new Cambridge-1 Supercomputer ensures increased technological capability and a scaling-up opportunity for the ongoing NVIDIA-powered AI Centre projects within the NHS.
Dr Ian Abbs, Chief Executive & Chief Medical Officer of Guy's and St Thomas' NHS Foundation Trust said: "We need to ensure AI researchers have access to the largest and most comprehensive datasets that the NHS has to offer, our clinical expertise, and the required computational infrastructure to make sense of the data. This approach is not only necessary, but also the only ethical way to deliver AI in healthcare – more advanced AI means better care for our patients."
Cambridge-1 will be used by members of academia and research, tech start-ups and pharmaceutical companies in projects targeted to improve patient care, diagnosis and delivery of critical medicines and vaccines around the world.