Intelligent Health UK 2023
Intelligent Health UK 2023
Topic: Event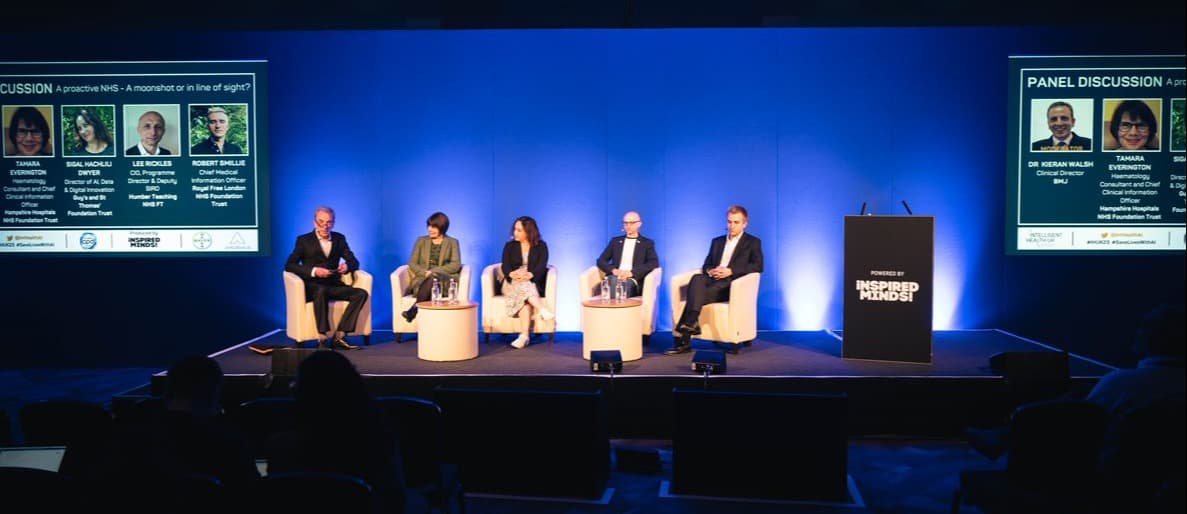 This year the AI Centre was proud to be an Innovation partner at Intelligent Health UK 2023. Our team had great fun curating some interesting main stage and challenge sessions on the topic of AI in healthcare.   
If you missed out on this event you can catch the main stage recordings from our AI Centre staff below:  
Scaling AI projects in the NHS: leading digital change, interoperability and innovation.  
Haris Shuaib, AI Transformation Lead, talks rolling out AIDE – the AI Centre cutting-edge platform that seamlessly integrates AI into clinical systems.   
Widening the AI deployment bottleneck: Clinical AI Fellowship programme – a first of its kind.  
Dr Alexander T Deng, Programme Lead for the Fellowships in Clinical Artificial Intelligence, talks about developing this clinical AI curriculum and training programme to combat the AI deployment bottleneck and the significance of training a workforce in clinical AI to ensure long-term sustainability and seamless integration of AI technologies.  
Panel discussion: a proactive NHS – a moonshot or in line of sight.  
Sigal Hachlili Dwyer, AI Centre Deputy SRO, joins a panel of experts to delve into the intricacies of merging clinical systems, facilitating the exchange and retrieval of data, constructing business intelligence platforms and harnessing the power of data science resources.   
In addition to the above recordings, Haris Shuaib ran an interesting challenge session on the important actors in implementation of AI in your organisation. You can read the full blog post on our LinkedIn news story here.  
The AI Centre is proud to have been a part of Intelligent Health UK 2023, and we are committed to continuing our efforts in advancing AI in healthcare.