"NHS in the driving seat: building a clinically-led AI ecosystem"
"NHS in the driving seat: building a clinically-led AI ecosystem"
Topic: Event

Autumn 2022. Webinar 3: "NHS in the driving seat: building a clinically-led AI ecosystem"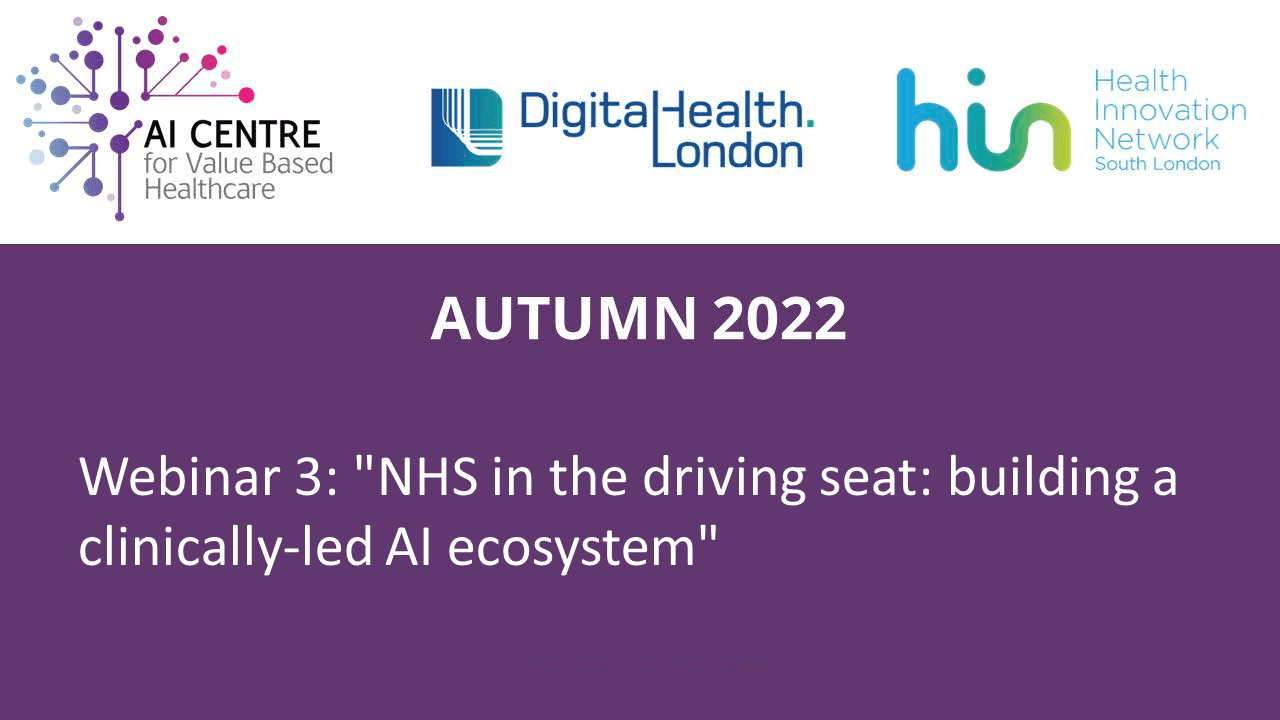 The AI Centre has been taking part in a public seminar series for the last 3 months. In our final installment, our panelists shared their thoughts on how to successfully build a clinically led AI ecosystem, such as the AI Centre.  
Part of our ethos is sharing our learnings so the wider AI healthcare community can learn and grow from us.
When we refer to the "AI ecosystem" it is actually 4 or 5 different ecosystems blended. I work globally and have never seen any consortium like the AI Centre that has managed to bring all these ecosystems together. They have hospitals, academia, commercial AI providers, software and hardware partners, AI infrastructure networking and engagement services – and all these partners have the same values and are working towards the same mission.
David Bericat, NVIDIA
One of our panelists – Dr Sarah Blake – is part of the first cohort of clinical AI fellows and provided a clinical insight as to what we can do moving forwards to strengthen our clinical engagement and build on our established ecosystem.
Clinician engagement is essential, and there are a couple of levels to this. You need to train professionals like myself and my cohort of clinical AI fellows, in deployment and pathways. You also need to engage all clinicians that will be using this software. Anyone using it needs some degree of training and understanding. There is still some mistrust of AI being used in healthcare, but we can help expel this with better understanding.
Dr Sarah Blake, Clinical AI Fellow, AI Centre
Our partners at DigitalHealth.London said:
It has been fantastic to host the #AI4NHS webinar series in partnership with the AI Centre this autumn and it's been great to hear about the work they are doing to bring stakeholders from across the healthcare ecosystem together. With some brilliant audience engagement in the room, and an average of over 230 sign-ups for each of the three webinars, it's clear that the AI Centre's platforms and programmes are of real interest.
Yasmin Stinchcombe, Senior Programme Manager, DigitalHealth.London.
To watch the full video of the third webinar, and find out more from our other panelists, please click here. You can also watch our previous webinars here and here. 
At this time, the AI Centre is actively looking to engage with researchers who are interested in using its platforms; FLIP and AIDE. For more information you can contact us at ai4vbh@kcl.ac.uk