"The doctor won't see you now: Machine learning from examples that you never see"
"The doctor won't see you now: Machine learning from examples that you never see"
Topic: Event

Autumn 2022. Webinar 2: "The doctor won't see you now: Machine learning from examples that you never see"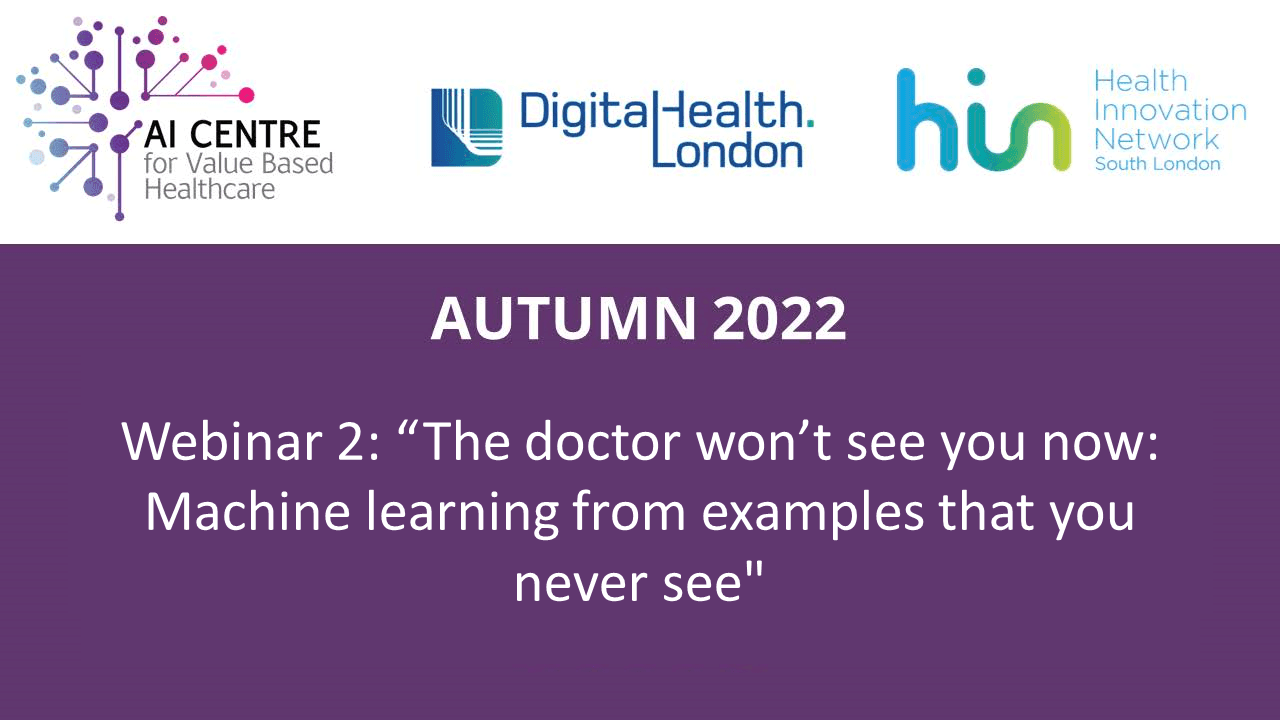 FLIP (Federated Learning Interoperability Platform) is a novel type of AI (Artificial Intelligence) for two reasons: researchers never see the data they are working with, and data sets are integrated with other hospitals creating a larger pool of data to work from. The second webinar of the #AI4NHS Autumn series, hosted by the AI Centre, DigitalHealth.London and the Health Innovation Network, honed in on some of the technical benefits, and challenges, in using a platform such as FLIP. 
Our speakers delved into the whole AI life cycle, starting with the data curation and standardisation process.
Data curation is an iterative process; it requires a lot of collaborative back and forth. What we have found is that it is just really hard to compare like for like because everyone classifies things differently. A benefit of using a platform such as FLIP is that we can impress a standard model of "acceptable" data, which massively improves the quality of the data set.
Haleema Al Jazzaf, Senior AI Engineer
Standardising data and using a federated learning platform such as FLIP, opens opportunities for research and AI training far wider and faster than previously used localised methods. 
With access to larger data sets consisting of more complex data, conversations regarding data privacy often arise.
The more complex the data, the harder it is to protect privacy. We need to move towards mechanisms that reinforce privacy in the design rather than relying on behaviour and training of the researcher.
Dr Jorge Cardoso, CTO at the AI Centre
Prior to FLIP, researchers could see the data they were working with. If you cannot see the data, then you need to solve the problems much more algorithmically. For example, you can no longer identify clear outliers within your data set so you must rely on the algorithm to do it for you. Working with data that you cannot see does require a shift in scientific mindset and methods of working. 
Historically, attempts to integrate AI platforms have been slow and limited by resources. To ease the move from research and development to deployment and integration, hospitals might want to look at a more vertical integration approach to clinical AI.
The whole AI lifecycle needs to be better integrated within the hospital. The efforts of the AI Centre to engage NHS Trusts from the start of the AI lifecycle has been extremely helpful because you are developing the tools at the place of eventual use.
Professor James Teo, Clinical Director of Data and AI; Professor of Neurology, Kings College Hospital and Guys & St Thomas Hospitals
To watch the full webinar, please click here. 
The third and final webinar of our series will take place on Tuesday 6th December 16:00-17:00 GMT. If you are interested in taking part in the discussion on: "NHS in the driving seat: building a clinically-led AI ecosystem," please register here.